Podcasts
Label Free March 20, 2023
https://www.youtube.com/watch?v=bgm63xVOBdU
Off the Deep Edge – March 18, 2023
https://anchor.fm/offthedeependwitheddie
Faith on The Journey
A God Shift
Christian Crusaders Radio
John Jarman: Broken and Redeemed – The CC Podcast: Conversations (captivate.fm)
Tuesday, January 18th 2022
John will be the special guest of local Podcast Winning Words. Winning Words is hosted by Ross Hjelseth fellow author and friend. https://hjelsethassociates.com/listen/#podcast.
Friday, February 4th 2022
Victorious Souls Podcast Danielle's interview with John click the link to listen to this interview. https://anchor.fm/victorioussoulspodcast/episodes/A-Marine-Veterans-Journey-from-Self-destruction-to-Redemption-e1dg4pm
Kingdom Crossroads – Show to recording in April
Monday, March 7th 2022
Bleeding Daylight – Show Release Click this Link https://www.bleedingdaylight.net/e/john-jarman-broken-and-redeemed/?fbclid=IwAR38g-_TW2oln3C2NS1N6bqlR2HVyr7ZYzViFe7lTlDmIz9SF8W5rRr1s_s
Where did you see God? – Show recorded. Release: Click the Link: https://anchor.fm/wheredidyouseegod/episodes/Healing-Broken-and-redeemed-e1f8gaq
Bible Jazz – Live at University Place Presbyterian Church. Click here: https://subsplash.com/universityplacepresbyterianchurch/lb/ms/+2vmm827?fbclid=IwAR1C_Up8X-QqPmasgVxtKJ0iQQgRMj-C66ocU2-XNUFP98EUXCHVcDIhlcQ
Catholic Life Coach For Men – Great Interview Show airs today click the link to listen to our conversation. Michael did a great job one of my favorite Podcast so far. https://podcasts.apple.com/us/podcast/catholic-life-coach-for-men/id1545025860
Wednesday, March 16th 2022
Inspirational Journeys: Stories that Matter Show Recording Release https://anchor.fm/inspirational-journeys/episodes/Broken-and-Redeemed-with-John-Jarman-e1ejdp7
The Wounds Of The Faithful – Show Recoded https://urldefense.proofpoint.com/v2/url?u=https-3A__youtu.be_zfTWYbrKVL0&d=DwICAg&c=euGZstcaTDllvimEN8b7jXrwqOf-v5A_CdpgnVfiiMM&r=kxPCueGeyxHdoAMJ5et9kBG3k2o1cMVjFbRS65nCUJs&m=ZrTjr5Eqh-caJORMO3drn6YDQc7_LJbXUZxyw4dM7bE&s=doGUj32c8SoCrrI2UZUuJNVO7rXBcgW1cMibeW0jpO0&e=
March 18th, 2022
Resilience in Life and Leadership – Show recording. Release Date: TBA
Monday, March 21st, 2022
Seven Mile Chats – Show recording today. Release Date: TBA
Wednesday, March 30th 2022
The Grind Defined – Show Recording
WOVE Inspiration – Inspiration For Women and the Men Who Love Them – Show Recording. Release Date: TBA
Friday, April 1st 2022
Comeback Coach – Recording Today
Monday April 4th, 2022
Motivational Monday by Jim & Lucy – Show airs today https://bit.ly/3JGsBoP
Thursday Apirl7th, 2022
Barbells & Brothers – Show Recorded. here is the link https://www.barbellsandbrothers.com/brokenandredeemed Video link: https://youtu.be/LRYRiRA0RsA
Monday, April 11th 2022
Linda's Corner: Faith, Family, and Living Joyfully.
May 6th, 2022
Come to Jesus –https://www.buzzsprout.com/1902364/10569311
June 13th, 2022
International Guy – Show recording
June 21st, 2022
The Niche Finder – Show recording
July 14th, 2022
Resilience in Life and Leadership – Show airs link coming soon
Wednesday, Aug 10th 2022
The Courage Wolf–
Friday, August 12 2022
Inspired Stewardship – Listen to John's interview with Host Scott Maderer. Link will be provided as soon as we have it.
Events
July 25th, 2022
Liberty Road Foundation (In Person) Kent, WA Chapter – Time: 7AM to 8AM
August 14 – 16 2022
Christian Retailers Association Sumer Show. Lexington, KY (In Person)
September 14th, 2022
Liberty Road Foundation (In Person) Tacoma, WA Chapter – Time: 7AM to 8AM Puyallup, WA Chapter – Time 12PM to 1PM
September 27th, 2022
Liberty Road Foundation (in Person) Olympia, WA Chapter – Time 12PM to 1PM
March 20th, 2022
Book Signing & Presentation at Emmanual Lutheran Chruch 1315 N Stevens St, Tacoma, WA 98406 10:30 AM here is the link to watch: https://fb.watch/bUjXmYEk5R/
Saturday April 2 2022
Broken & Redeemed Book Launch Location: Fircrest Golf Club Time: 3 PM to 5 PM (Invitation ONLY)
Saturday, April 16th, 2022
Book Singing at Espresso Yourself Coffee House & Deli From 1 PM to 3 PM 1009 Regents Blvd, Fircrest, WA 98466 FREE cup of coffee with the purchase of your copy of Broken & Redeemed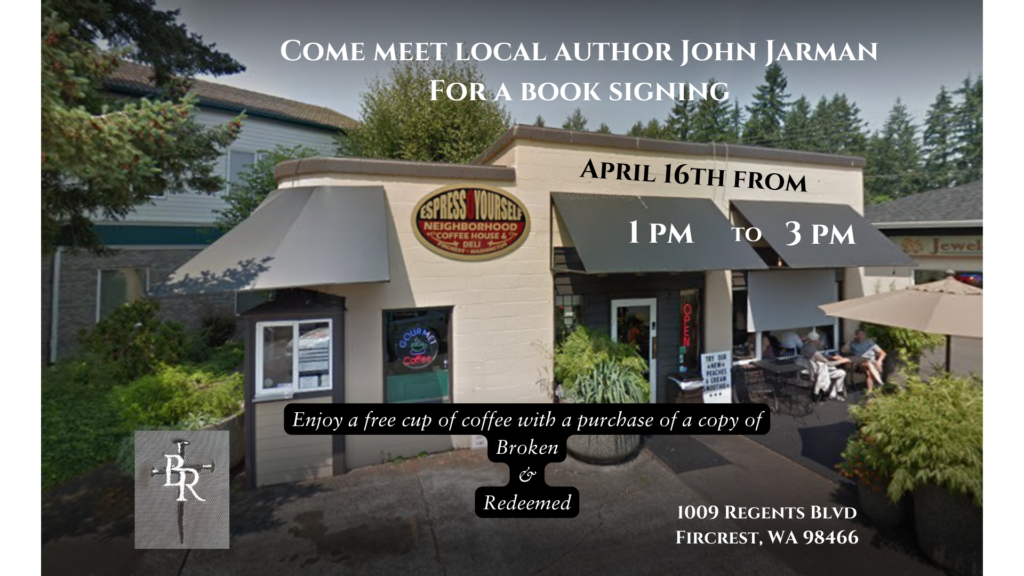 Thursday, April 21st 2022
Presenting to The Bravehearted Men's Group Emmanual Lutheran Chruch Tacoma, WA Time: 6:00pm
Friday, May 6th 2022
Broken & Redeemed Book Launch Location: Phoenix, AZ Time: 5 PM to 8 PM (Invitation ONLY)
PRESS RELEASE
Media Kit